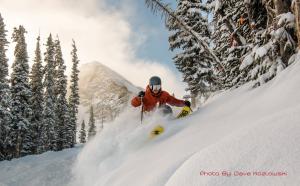 Population (estimate)
Crested Butte: 1500
Mt Crested Butte: 800
Gunnison: 5,850
All of Gunnison County: (over) 15,324
Elevation
Crested Butte: 8,885 ft
Mt Crested Butte base: 9,375 ft
summit: 12,162 ft
Gunnison: 7,703 ft

Gunnison County encompasses 3,259 square miles, 21 of which is water, 78% of which is Federal Land owned by the U.S.F.S., BLM, & Curecanti National Recreation Area totaling 2,526 square miles!!

Crested Butte
This quaint Victorian Town was established during the mining boom in the late 19th Century. Crested Butte boasts one of the nations largest National Historic Districts. The Town of Crested Butte is chock full of beautiful new and historic homes, tasty restaurants, and funky shops/art galleries and panoramic views that will literally take your breath away. Its unique character and timeless style attracts people from all over the world. We are a destination resort, nestled in a secluded valley, surrounded by towering mountain peaks over 13,500 feet tall. Crested Butte is a treasure worth finding. It has been dubbed "The Wildflower Capital" due to the vast array of wildflower species found in the capacious amount of public lands surrounding us. Our 'Colorful Locals" and our small town appeal is easily understood, is filled with non-stop fun and entertainment for all ages and fits like the best old shoe you've ever owned. This town has endless adventures to partake in and a lifetime of discoveries to make...

Awards
Mt. Crested Butte and the area surrounding it have won numerous awards including:
5280 Magazine Editor's Choice for Best Ski Resort in "Top of the Town 2017: Sports, Fitness & Outdoors" (2017)
Recognized as one of the 20 Best Mountain Towns in America by Men's Journal (2017)
National Geographic named Crested Butte the #2 Best Mountain Bike Town in America (2017)
Ranked #1 by Singletracks for "The Top 5 Mountain Bike Destinations in Colorado" (2017)
Best Ski/Snowboard Resort in Elevation Outdoors Best of the Rockies (2017)
Best Inbounds Ski/Snowboard Terrain in Elevation Outdoors Best of the Rockies (2017)
Singletracks named Crested Butte mountain biking capital of Colorado (2016)
Best Ski/Snowboard Resort in Elevation Outdoors Best of the Rockies (2016)
10 Best Travel Awards for Best Ski Town by USA Today (February 2016)
Ranked as one of the top 10 ski towns in the West, and ranked as ski town with "Most Charm" by MSN Travel (2016)
TripAdvisor named Crested Butte a top Summer Affordable Vacation Destination (July 2015)
Expedia named Crested Butte the #2 America's most comfortable cities(August 2015)
Traveller's (Australia) ranked Crested Butte Mountain Resort #13 out of 100 top travel destinations (June 2015)
MSN named Crested Butte #34 of 40 Best Ski Resorts in North America
Traveler Readers Choice Awards named Crested Butte Mountain Resort #14 in America's Best Ski Resorts Category by Conde Nast Traveler (2015)
SKI Magazine ranked Crested Butte #28 for Overall North American Ski Resorts (Fall 2015)
MTBParks ranked the Evolution Bike Park at Crested Butte as Top 5 Bike Parks in the Rocky Mountains
MTBParks Rider's Choice Awards Best Bike Parks in North America ranked Evolution Bike Park as #4 in Rocky Mountain Region
OntheSnow.com ranked Evolution Bike Park as a top lift served bike park
Travel Agent Central named Crested Butte top 5 Colorado Ski Resorts to visit for summer
Powder Magazine was Reader's Choice for #1 Ski Town in North America (December 2014)
2013 Colorado's best mid-sized ski town by Elevation Outdoors Magazine
2012 Gunnison-Crested Butte – Doctors Park, near Almont and Trail 401, Crested Butte – Two of the Top 10 Best Colorado Trails/Mountain Bike Magazine
2012 Crested Butte - #15 in North America/Ski Magazine Annual Reader's Survey
2012 Crested Butte - 10 Best Summer Festivals Crested Butte Wildflower Festival by OutsideOnline.com
2012 Crested Butte - America's Best Mountain Towns by Men's Journal
2012 Gunnison-Crested Butte - #20 in Top 50 Bucket List by Outside Magazine
2012 Crested Butte - Top 25 Ski Resorts in the World by National Geographic
2011 Crested Butte - Top 20 Ski Resorts (#15) by Ski Magazine
2011 Crested Butte - Top 20 Ski Resorts (#9) by Conde Nast Reader Survey
2011 Gunnison - 10 Best Colleges in the US for skiers, Western State College by ESPN
2011 Crested Butte - 10 Best Ski Resorts for Families by Forbes
2011 Gunnison - 101 Best of the West by American Cowboy
2011 Crested Butte - "Top 5 Mountain Towns" by AAA Northern California's Via Magazine
2010 Gunnison-Crested Butte "America's Greatest Fall Color Drives" by Travel + Leisure
2010 Gunnison - "Pioneer Museum Outstanding Contributions to Colorado History" by Denver Posse
2010 Crested Butte - "Ten Great Trips for Older Skiers" by AARP Magazine
2010 Crested Butte - "Best Nightlife" by 2011 Outside Magazine Buyer's Guide
2010 Crested Butte - "Ten Soaring Ski Resorts in the World" by Woman's Day Magazine
2010 Crested Butte - "The West's Best Ski Towns...Most Charm" by Sunset Magazine
2009 Crested Butte- Bike Magazine North America Reader Survey - Best Destination, Best Climb, Best Tight n' Twisty Trail and the 401 Trail is one of the top 3 trails in North America
2009 Gunnison-Crested Butte - "20 Best Places to Live the West" by American Cowboy Magazine
2009 Crested Butte - "Top 10 Family Ski Resorts" by Sherman's Travel
2008 Crested Butte - "10 Best Towns in America" by Outside Magazine
2008 Crested Butte - "Top 10 Dream Towns" by Sunset Magazine
2008 Crested Butte - "Dozen Distinctive Destinations" by the National Trust for Historic Preservation
2008 Crested Butte - "Top 20 Ski Towns" by SKI Magazine
2008 Crested Butte - #1 Best Steeps, #8 Best Trees & #10 Best Powder" by Skiing Magazine
2008 Crested Butte - #3 Top Ski Town by Ski.net
2008 Crested Butte - "America's Best Small Ski Towns by Travel + Leisure Magazine
2007 Gunnison - "50 Best Adventure Towns" by National Geographic Adventure Magazine